Mitsubishi

/

E1000

/

E1032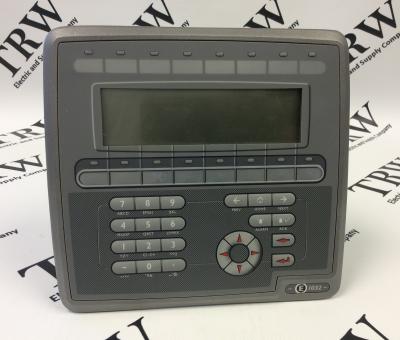 This E1032 is
In Stock Ships Today!

New In Stock
Call 1-800-479-8084
Rate the E1032
2.5
/5 on
2
reviews
Product Details
E1000 Monochrome Display with KEYPAD (E1032)

Manufacturer:

Mitsubishi

Series:

E1000
Product Description
The Beijer E1032 (E-1032) is an operator interface panel from the E1000 series. The front panel of this interface has the measurements of 202mm by 187mm by 6mm (7.95in by 7.36in by 0.24in). However, the active area of display is 127mm by 33.8mm (5in by 1.33in). The display area of the E1032 is equipped with a FSTN (Film compensated Super Twisted Nematic) LCD which is simply a STN screen with a retardation film placed on it in order to make the white and black contrast more apparent.

The front panel is given an IP66 protective rating seal that protects the E1032 from any dust infringement whatsoever, and is also protected against direct spurts from high pressure jets. The rear panel is also given a protective seal of IP20 which protects it from finger contact or contiguity with other objects of similar size. The keyboard of the E1032 is given an Autotex F157 overlay. This overlay is made of a fine finish from the Autotex 7-series ink and 150µm gauge. The reverse side material is given a powder-coat aluminum finish. The clime the E1032 needs to maintain varies depending on how it is installed. If it is installed vertically, temperatures should remain between 0 and 50 degree Celsius; if horizontally, then temperatures should be between 0 and 40 degrees Celsius.

The E1032 may connect to the Ethernet system by using a shielded RJ45 connector; this allows communication with other PLC devices. A USB may also be used. In the operator interface are two serial ports, the first being the RS-422/RS-485 and the other, an RS-232C port.

Here is the source material referenced:
https://www.avinasanat.com/wp-content/uploads/products/E1000-Series_ServiceMaintenance_MA00758A.pdf;
https://www.mewdevenezuela.com/productos/descargasProductos/E1000_Models_DataSheet.pdf;
https://www.enclosurecompany.com/ip-ratings-explained.php;
https://focuslcds.com/journals/lcd-modules-are-available-in-3-options-tn-stn-and-fstn-lcd/;
http://autotype.macdermid.com/upload/documents/autotex.pdf
Technical Specifications
Part Number: E1032 (E-1032)
Module Type: Operator Interface Panel
Weight: 2.09lbs (0.95kg)
Pixels: 240 X 64 Pixels
Storage: 12MB
Shipping and Order Information
TRW Supply can usually ship in stock items same day before 3:30 PM EST for no extra cost and before 5 PM with a rush fee
Mitsubishi E1000 Shipping options vary by location. Call for an accurate quote.
Warranty
The Mitsubishi E1032 comes with a one-year warranty.
TRW Electric & Supply Company is a global automation supplier. We deliver reliable new and refurbished parts at a great value. Our product focus is Omron and Mitsubishi products, but we have been able to provide our customers with solutions from other manufacturers as well. Our goal is to supply the automation industry with the best service and pricing, and of course conduct business with a high level of integrity.
A Mitsubishi Authorized Distributor for E1000 is not the only source for Mitsubishi products. Many of the Mitsubishi products have been discontinued and therefore are no longer available from authorized suppliers. Mitsubishi Authorized Supplier of Mitsubishi Automation. TRW Electric & Supply has many new and refurbished Mitsubishi E1000 parts available for purchase.