Mitsubishi

/

F900GOT

/

F940GOT-SWD-E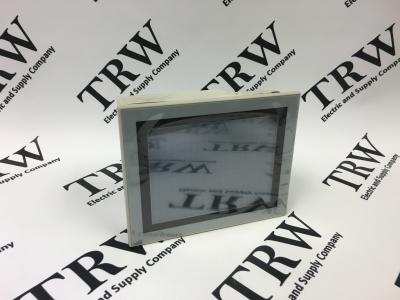 The F940GOT-SWD-E is
Available
Call 1-800-479-8084
Rate the F940GOT-SWD-E Be the 1st to rate this product listing!
Product Details
F900GOT Touchscreen Operator Interface (F940GOTSWDE)

Manufacturer:

Mitsubishi

Series:

F900GOT
Product Description
The Mitsubishi F940GOT-SWD-E (F940GOTSWDE) is a F900GOT touchscreen operator interface with a 5.7 inch screen size. The supply voltage of the interface is 24VDC, but can fluctuate between +10% to -15%. Its current consumption is 410mA with the voltage of 24VDC.

The touchscreen size of the F940GOT-SWD-E is 5.7in if it is measured diagonally, measured length by height is 115mm by 86mm (4.53in by 3.39in). The screen has 320 by 240 dots which can support 40 characters per line and 15 lines. The number of colors that the F940GOT-SWD-E can have is 8 colors. The touchscreen uses STN (Super Twisted Nematic) LCD colors. The colors the STN LCD colors are gray, blue, yellow/green. The screen also can have up to 50 keys.

The F940GOT-SWD-E touchscreen operator interface has two communication interfaces: the RS-232C and the RS-422. These are both serial interfaces with 9-pin D-sub ports. These ports allow the touchscreen to connect with the motley of CPUs, specifically those from the Mitsubishi Q series, A Series, FX series, and FREQROL series.

The F940GOT-SWD-E touchscreen operator interface has a protective IP rating of IP65F for the panel. This denotes that the interface touchscreen is entirely dust tight and is even protected against even the minute dust particles. It is also guarded against water projected from any direction with restricted ingress and no pernicious effects. This ensures protection from the inimical effects of most environments the F940GOT-SWD-E may be in, although, the touchscreen should not be exposed to caustic gases or an inordinate impingement of dust.

Here is the source material referenced:
https://dl.mitsubishielectric.com/dl/fa/document/manual/got/jy992d94201/jy992d94201e.pdf
https://www.enclosurecompany.com/ip-ratings-explained.php
Technical Specifications
Part Number: F940GOT-SWD-E (F940GOTSWDE)
Module Type: Operator Interface
Touchscreen Size: 5.7" (diagonal)
Voltage: 24VDC
Weight: 5lbs (approx.)
Related Parts
F943GOT-LWD - Mitsubishi Operator Interface
MR-J4-100B - Mitsubishi Melservo MR-J4 Servo Amplifier
HC-UFS72K - Mitsubishi Melservo HC Servo Motor with KEY
Shipping and Order Information
TRW Supply can usually ship in stock items same day before 3:30 PM EST for no extra cost and before 5 PM with a rush fee
Mitsubishi F900GOT Shipping options vary by location. Call for an accurate quote.
Warranty
The Mitsubishi F940GOT-SWD-E comes with a one-year warranty.
TRW Electric & Supply Company is a global automation supplier. We deliver reliable new and refurbished parts at a great value. Our product focus is Omron and Mitsubishi products, but we have been able to provide our customers with solutions from other manufacturers as well. Our goal is to supply the automation industry with the best service and pricing, and of course conduct business with a high level of integrity.
A Mitsubishi Authorized Distributor for F900GOT is not the only source for Mitsubishi products. Many of the Mitsubishi products have been discontinued and therefore are no longer available from authorized suppliers. Mitsubishi Authorized Supplier of Mitsubishi Automation. TRW Electric & Supply has many new and refurbished Mitsubishi F900GOT parts available for purchase.