Mitsubishi

/

MELSERVO MR-J2

/

MR-J2-100A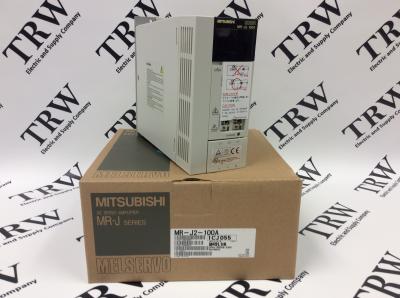 This MR-J2-100A is
In Stock Ships Today!
Call 1-800-479-8084
Rate the MR-J2-100A
5.0
/5 on
3
reviews
Product Details
SERVO AMPLIFIER 1KW 3 PHASE 50-60HZ 200-230V (MRJ2100A)

Manufacturer: Mitsubishi

Series: MELSERVO MR-J2


Order New Online

Product Description
Power Supply
Voltage / Frequency: 3-phase 200-230VAC, 50/60Hz
Permissible Voltage Fluctuation: 3-phase 170-253VAC
Permissible Frequency Fluctuation): ±5%
Control System: Sinusoidal PWM control/current control system
Dynamic brake: Built-in
Speed frequency response: 550 Hz or more

Protective functions
Over current shutdown
regeneration over voltage shutdown
overload shutdown (electronic thermal)
SERVO MOTOR overheat protection
encoder fault protection
regeneration fault protection
under voltage/sudden power outage protection
over speed protection, excess error protection
Position Control Mode
Maximum input pulse frequency: 500 kpps- when using differential receiver, 200 kpps- when using open collector
Positioning feedback pulse: Resolution per encoder/servo motor rotation (131072 pulse/revolution)
Positioning complete width setting: 0 - ±10VDC
Excess error: ±10 rotations
Torque limit input: Set by parameters or external analog input (0-±10VDC / maximum torque)
Speed Control Mode
Speed control range: Analog speed command 1:2000, internal speed command 1:5000
Analog speed command input: 0-±10VDC / rated speed
Speed fluctuation rate: ±0.01% max.(load fluctuation 0-100%), 0% (power fluctuation ±10%), ±0.2% max. (ambient temperature 25°C ± 10°C), when using external analog speed command
Torque limit: Set by parameters or external analog input (0-±10VDC / maximum torque)
Shipping and Order Information
TRW Supply can usually ship in stock items same day before 3:30 PM EST for no extra cost and before 5 PM with a rush fee
Shipping options vary by location. Call for an accurate quote.
Warranty
The MR-J2-100A comes with a 1 year warranty.
TRW Electric and Supply Company is a global automation supplier. We deliver reliable new and refurbished parts at a great value. Our product focus is Omron and Mitsubishi products, but we have been able to provide our customers with solutions from other manufacturers as well. Our goal is to supply the automation industry with the best service and pricing, and of course conduct business with a high level of integrity.
A Mitsubishi Authorized Distributor for MELSERVO-MR-J2 is not the only source for Mitsubishi products. Many of the Mitsubishi products have been discontinued and therefore are no longer available from a Mitsubishi Authorized Supplier of Mitsubishi Automation. TRW Electric and Supply has many new and refurbished Mitsubishi MELSERVO-MR-J2 parts available for purchase.