Mitsubishi

/

MELSERVO MR-J2

/

MR-J2S-200B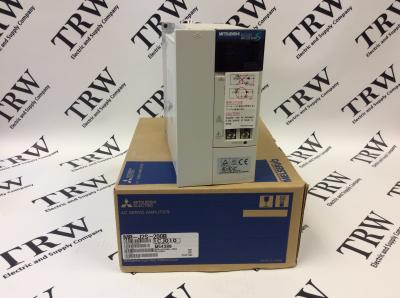 This MR-J2S-200B is
In Stock Ships Today!

New In Stock
Call 1-800-479-8084
Rate the MR-J2S-200B
4.5
/5 on
6
reviews
Product Details
Melservo MR-J2 Servo Amplifier 200V (MRJ2S200B)

Manufacturer:

Mitsubishi

Series:

MELSERVO MR-J2
Product Description
The Mitsubishi MR-J2S-200B (MRJ2S200B) is a Melservo MR-J2 series servo amplifier with a voltage of 200V. This servo amplifier and provides 2kW, it inputs 200-230 Volts and the frequency of the amplifier is 50-60Hz. The output is 170 volts, its output is frequency 0-360Hz. The servo amplifier also has a RS-232C/RS-422 cable for interfacing with a personal computer. As a member of the MR-J2S-B servo amplifier, the MR-J2S-200B can assist connecting with other drives by the utilization of the Servo System Control Network (SSCNET). This connection allows the servo amplifier to manage the motor brake.

The MR-J2S-200B amplifier can be hooked to a CN1A adapter to a motion controller (A171SH, A173UH, A172SH, Q172, Q173) or allocating controllers (A1SD75M, QD75M) that is compatible with SSC Network. A CN1B connector can be employed to connect to the SSC Network. A CN1B connector is also deployed in attaching numerous servo amplifiers and motors may be connected to the MR-J2S-200B amplifier by a CN2 connector. A CN3 connector is utilized to connect this amplifier with a personal computer that utilizes a MR Configurator. This servo amplifier can be paired with a number of motors and these are the applicable motors the HC-SFS152, HC-SFS202, HC-RFS153 and HC-RFS103. There are a couple of ways to apply the motor to this amplifier which are shown in the manual. There is also a battery compartment in the MR-J2S-200B amplifier for an optional MR-BAT Battery.

The environment of the MR-J2S-200B amplifier should maintain an ambient temperature between 0 and 55 degrees Celsius (32 to 131 degrees Fahrenheit) to keep the normative operations.

Here are the manuals that may have been referenced:
http://dl.mitsubishielectric.com/dl/fa/document/catalog/servo/l03007/l03007d.pdf
http://www.andreoniautomazione.it/mr-j2-super-catalogue_gb.pdf
Technical Specifications
Part Number: MR-J2S-200B (MRJ2S200B)
Module Type: Servo Amplifier
SSC NETWORK
Voltage/Frequency: 200-230V AC, 50/60Hz, 3 Phase
Output Wattage: 2kW
Weight: 4.4lbs (2.0kg)
Related Parts
MR-J2S-200A - Mitsubishi Melservo MR-J2 Servo Amplifier (MRJ2S200A)
HF-KP43B - Mitsubishi HF Series Servo Motor with Brake (HFKP43B)
HC-MFS73BK - Mitsubishi Melservo HC Servo Motor with Brake Key (HCMFS73BK)
Shipping and Order Information
TRW Supply can usually ship in stock items same day before 3:30 PM EST for no extra cost and before 5 PM with a rush fee
Mitsubishi MELSERVO MR-J2 Shipping options vary by location. Call for an accurate quote.
Warranty
The Mitsubishi MR-J2S-200B comes with a one-year warranty.
TRW Electric & Supply Company is a global automation supplier. We deliver reliable new and refurbished parts at a great value. Our product focus is Omron and Mitsubishi products, but we have been able to provide our customers with solutions from other manufacturers as well. Our goal is to supply the automation industry with the best service and pricing, and of course conduct business with a high level of integrity.
A Mitsubishi Authorized Distributor for MELSERVO-MR-J2 is not the only source for Mitsubishi products. Many of the Mitsubishi products have been discontinued and therefore are no longer available from authorized suppliers. Mitsubishi Authorized Supplier of Mitsubishi Automation. TRW Electric & Supply has many new and refurbished Mitsubishi MELSERVO-MR-J2 parts available for purchase.
More Information: MR-J2S-200B, MRJ2S 200B, MR J2S 200B, MRJ2S200B