Mitsubishi

/

MELSERVO MR-J3

/

MR-J3-100B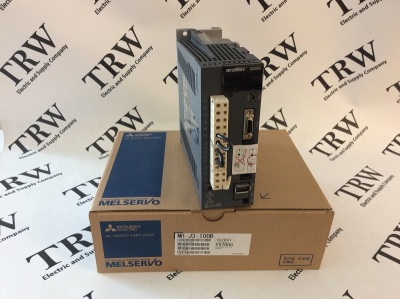 The MR-J3-100B is
Available
Call 1-800-479-8084
Rate the MR-J3-100B Be the 1st to rate this product listing!
Product Details
Melservo MR-J3 Servo Amplifier (MRJ3100B)

Manufacturer:

Mitsubishi

Series:

MELSERVO MR-J3
Product Description
The Mitsubishi MR-J3-100B (MRJ3100B) is a 1kW, 200V Melservo MR-J3 servo amplifier. The power supply of the servo amplifier has a 3-phase voltage that spans between 200 to 230VAC and a frequency of 50/60Hz. This voltage range may swell to the same 3-phase voltage of 170 to 253VAC and the frequency can orbit between +5% and -5%. The frequency response of the servo amplifier's speed is 900Hz. Since the MR-J3-100B servo amplifier uses the SSCNET III, which has a communication speed is 50 Mbps.

The MR-J3-100B servo amplifier can attach itself to only one motor, the HF-SP102 servo motor. This motor is of the medium inertia type.

The MR-J3-100B servo amplifier can connect to a motion control module which resides in the MELSEC Q series system with its CN1A port. Then, the CN1B port may attach to the CN1A port of a neighboring MR-J3-B servo amplifier with the use of the SSCNET III. Next the CN2 connector can link to the aforementioned applicable servo motor, the HF-SP102. The MR-J3-100B servo motor also has a CN3 port may link to an I/O signal. The last port, the CN5 port, may attach to a personal computer that utilizes the MR Configurator (this computer may also connect to the MELSEC system). There are also three connectors. All three of the connectors of the MR-J3-100B servo amplifier are used for the power supply. The CNP1 connector is for the main circuit, the CNP2 connector is utilized for the control circuit, and CNP3 connector is employed as a power supply for the motor.

Here is the manual referenced:
http://www.koningenhartman.nl/UserFiles/Product/Brochure/MELSERVO%20MR%20family%20Technical%20Catalogue.pdf
Technical Specifications
Part Number: MR-J3-100B (MRJ3100B)
Module Type: Servo Amplifier
Voltage/Frequency: 200 to 230VAC, 3-phase 50/60Hz
Output Wattage: 1kW
Weight: 3.1lb (1.4kg)
Related Parts
MR-J2S-10B - Mitsubishi Melservo MR-J2 Servo Amplifier, SSC NETWORK (MRJ2S10B)
MR-J2S-10A1 - Mitsubishi Melservo MR-J2 Servo Amplifier (MRJ2S10A1)
HC-MFS053 - Mitsubishi Melservo HC Servo Motor (HCMFS053)
Shipping and Order Information
TRW Supply can usually ship in stock items same day before 3:30 PM EST for no extra cost and before 5 PM with a rush fee
Mitsubishi MELSERVO MR-J3 Shipping options vary by location. Call for an accurate quote.
Warranty
The Mitsubishi MR-J3-100B comes with a one-year warranty.
TRW Electric & Supply Company is a global automation supplier. We deliver reliable new and refurbished parts at a great value. Our product focus is Omron and Mitsubishi products, but we have been able to provide our customers with solutions from other manufacturers as well. Our goal is to supply the automation industry with the best service and pricing, and of course conduct business with a high level of integrity.
A Mitsubishi Authorized Distributor for MELSERVO-MR-J3 is not the only source for Mitsubishi products. Many of the Mitsubishi products have been discontinued and therefore are no longer available from authorized suppliers. Mitsubishi Authorized Supplier of Mitsubishi Automation. TRW Electric & Supply has many new and refurbished Mitsubishi MELSERVO-MR-J3 parts available for purchase.